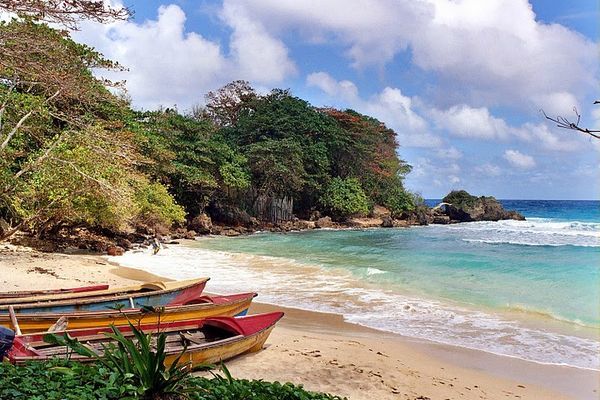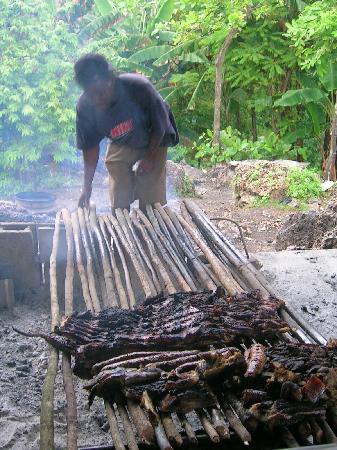 Jerking is an ancient process of preserving beef, pork, poultry, and fish that was used before the invention of refrigeration. On the mainland of North America, this process is popularly known as Jerky. The early Native Americans of the Caribbean, the Arawaks and Carib Indians, used local spices and a method of slowly cooking and smoking meats and fish over Pimento Wood. This method of jerking was later passed onto the Maroons, early runaway slaves, living in the interior of Jamaica. These Maroons added their own spices, further enhancing this unique form of barbequing.
Even up until the late 1970s jerk products was still relatively unknown to some Jamaicans much less outside the boundaries of Jamaica. Jerk was known to some Jamaicans as "street food" which was usually consumed by the more adventurous who had a passion for hot and spicy foods. For some families, the weekend ritual was a drive to Boston Beach in Portland, Jamaica to "cool off" on the famous white sand beach followed up by a visit to one of the famous jerk shacks nearby to eat some of "di real" Boston jerk pork and chicken.
Today this relatively unknown "street food" is now a popular food item throughout all parts of Jamaica and has appeared on the menus of many famous restaurants around the world.
"Cooyah!! Jerk Pork and Jerk Chicken is almost as famous as Bob Marley and Reggae Music".